Ebédidő? Futóidő! / It's runchtime!
Az egyik legnagyobb kihívás számomra, hogy megtaláljam az időt a futásra. Rengeteg a teendő otthon a két gyerek mellett és mindig lenne más feladat is, amivel foglalkozni kéne.
Rá kellett jönnöm, hogy nincs tökéletes idő a futásra. Nem lesz. Nincs olyan, hogy annyira semmit nincs csinálni éppen, hogy akár futhatunk is. Így nincs is értelme várni, hogy valami csoda történik és tele leszünk idővel.
Amit én tettem, elkezdtem keresni azokat az időket, amikből le lehet csippenteni, amiket ki lehet cserélni. Egyik nap kipróbáltam, hogy hazafutok a munkából. Öltözéssel, mindennel együtt 1 óra 10 perc körül értem haza, ami amúgy 45 perc szokott lenni, így akár azt is mondhatjuk, hogy 25 percet áldoztam futásra. Kedves barátom szavaival élve, a hasznos futás a legjobb futás.
Most kipróbáltam, hogy milyen ebédidőben elmenni futni. Tökéletesen belefér, hogy elmenjek 45 percre futni, lezuhanyozzak és meg is ebédeljek gyorsan utána. Ráadásul a futásnak köszönhetően nem érzem azt az álmosságot, amit ebéd után szoktam pár órával, amire eddig csak a kávé volt a válaszom.
Ha a munkátok megengedi, csak ajánlani tudom, hogy ebéd előtt egy rövid futásra elmenjetek. Felfrissít, jó étvágyad lesz és jobb lesz a közérzeted is a nap hátralévő részében.
2018. áprilisában adománygyűjtési céllal fogok rajthoz állni a 33. Telekom Vivicitta-n.
Kérlek, segíts Te is az elérésében: fogadj örökbe egy kilométert a futásomból!
Ne félj kicsit adni! Egy kávé vagy csoki ára is segít, hogy a gyerekek életre szóló élményhez jussanak a táborban! Egy mosoly megér ennyit, igaz? : )
---
One of the greatest challenges for me is finding time for running. There are lots of duties around the two kids at home and there are always tasks, waiting to be done.
I had to realize there is no perfect time for running. There won't be. There isn't a moment when you are so not busy that you could go for a run. Therefore there is no use to wait for a miracle happening which grants us lots of time.
What I've started to do is finding time to pick some of it off or swap it for another task. Once I tried to run home from work. It took me 1 hour 10 minutes counting the changing and everything. The commute time would have been 45 minutes, so technically I sacrificed only 25 minutes for running. As one of my friends would say: The useful running is the best of running.
Today I tried "runch". Run for lunch. A 45 minutes run fits perfectly and let me to take a shower and have a quick lunch afterwards. Moreover, thanks to the running, I can't feel the sleepiness I used to feel for a few hours after lunch which I had only one answer so far, coffee.
If your daily tasks let you, I recommend a short run before lunch. It's refreshing, makes good appetite, and boost your mood for the rest of the day.
I'm going to run the 33rd Vivicittá Spring Half Marathon to be held in April 2018, with a charitable purpose.
Please, help my campaign: sponsor a mile of my run!
Dare to give small amounts! The price of a coffee or a chocolate bar helps too to provide a lifelong good experience for the children in the camp. It's worth a smile, isn't it? : )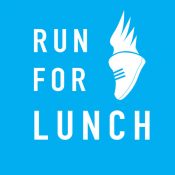 Runch - 2017.12.12.
8.2 km
00:41:34
633 kCal