Együtt futók fogadalma / Oath of whom run together
Egy csodás közös futáson voltam túl szombaton, köszönettel tartozom Zsófinak, hogy eljött velem és megint együtt mehettünk. Nagyszerű élmény volt, fontos tanulságokkal arról, mi számít igazán, ha együtt futsz valakivel. Hazafelé próbáltam összeszedni a gondolataim, végül írtam egy fogadalmat magamnak, hogy mit jelent számomra együtt futni.
Együtt kezdjük el, együtt fejezzük be, együtt csináljuk végig.
Ha gyorsabb vagy, igyekszem, ha lassabb, igazodom.
Ha lelkes vagy, erőt merítek belőled, ha csüggedt, bátorítalak.
Ha fáradt vagy, belesétálunk.
Ha elestél felsegítelek, ha megsérültél, megállunk.
Most nem a célért futok, nem az útért futok, nem érted futok.
Veled futok. Velem futsz. Együtt futunk.
2018. áprilisában adománygyűjtési céllal fogok rajthoz állni a 33. Telekom Vivicitta-n.
Kérlek, segíts Te is az elérésében: fogadj örökbe egy kilométert a futásomból!
Ne félj kicsit adni! Egy kávé vagy csoki ára is segít, hogy a gyerekek életre szóló élményhez jussanak a táborban! Egy mosoly megér ennyit, igaz? : )
---
I had a wonderful run on Saturday and I owe Sofie a big thanks for coming with me and running together. It was a great experience with important lessons about what counts really when you run together. I tried to collect my thoughts on my way home and wrote a vow for myself, what does running with someone mean to me.
We set off together, we finish together, we go through it together.
If you're faster, I'll try harder, If slower, I'll align my steps.
If you're enthusiastic, I'll gain power from it, if distressed, I'll encourage you.
If you're tired, we'll walk a little.
If you're fall over, I'll help you up, if injured, we'll stop.
I do not run for the finish line, I do not run for the path, I do not run for you.
I run with you. You run with me. We run together.
I'm going to run the 33rd Vivicittá Spring Half Marathon to be held in April 2018, with a charitable purpose.
Please, help my campaign: sponsor a mile of my run!
Dare to give small amounts! The price of a coffee or a chocolate bar helps too to provide a lifelong good experience for the children in the camp. It's worth a smile, isn't it? : )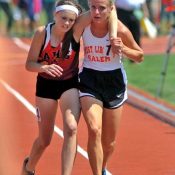 Leave behind nobody!
15.6 km
01:40:15
723 kCal