Ha gyorsan akarsz menni, … / If you want to go fast, …
…menj egyedül, ha messzire, menjetek együtt, ahogy a mondás tartja.
Az élet számos területén igaz. A futásnál magam is így tapasztaltam. Korábban hozzám igazodtak, most úgy alakult, hogy én igazodom gyakrabban. Voltam mindkét oldalon és felismertem, hogy ez nem számít. Nem számít a tempó, amikor együtt futsz valakivel. Ami számít, a történet, amit ott és akkor alkottok. Az emberek kicserélődnek.
Szombaton volt szerencsém kettesben futni László Gáborral, meghallgatni egy szeletet az életéből, megismerni Csepelt úgy, ahogy előtte sosem láttam, inspirációt nyerni az útból, amin jár és egy igazán jót futni.
Vasárnap Zsófi megmutatta a Hajógyári sziget kört, ami nekem háztól házig pont 10 km, így biztos, hogy egyedül is meg fogom még látogatni.
A testem a hétvégén 25 km-et tett meg futva, a lelkem ennek sokszorosát, szárnyalva.
Köszönöm, hogy messzire visztek.
2018. áprilisában adománygyűjtési céllal fogok rajthoz állni a 33. Telekom Vivicitta-n.
Kérlek, segíts Te is az elérésében: fogadj örökbe egy kilométert a futásomból!
Ne félj kicsit adni! Egy kávé vagy csoki ára is segít, hogy a gyerekek életre szóló élményhez jussanak a táborban! Egy mosoly megér ennyit, igaz? : )
---
…go alone. If you want to go far, go together as the saying goes.
It's true in several aspects of life. I experienced the same with running. Earlier others matched their pace to mine, it so happened that currently I match my pace to others' more often. I've been on both sides and realized that it doesn't matter. The pace doesn't matter when you run with someone. What matters is the story you create there. People exchange.
On Saturday I was lucky to run with Gábor László, to hear a piece of his life, to get know Csepel island from a new perspective, to gain inspiration from the path he walks on, and to have a really good run.
On Sunday Zsófia showed me the circuit in the Hajógyári island which is exactly 10 km for me home to home, so I am sure that I will visit it alone too.
My body ran 25 km in the weekend. My soul made multiple times more, flying.
Thanks for taking me far.
I'm going to run the 33rd Vivicittá Spring Half Marathon to be held in April 2018, with a charitable purpose.
Please, help my campaign: sponsor a mile of my run!
Dare to give small amounts! The price of a coffee or a chocolate bar helps too to provide a lifelong good experience for the children in the camp. It's worth a smile, isn't it? : )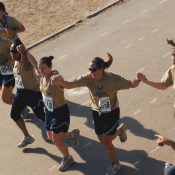 ÉK Futás Vol.3.
14.0 km
01:25:37
1304 kCal